| | |
| --- | --- |
| | PEOPLE OF THE STATE OF CALIFORNIA |


This page may be offensive and is recommended for adults only
Basically this page is just highlighting a couple of true stories from my past.
On this page I want to share two criminal offenses that took place in California where the people of this State had to get involved. Both crimes took place on the 11th day of the month.
The first one is with The People of the State of California vs Frank Nordby and this all took place on the eleventh day of August, 1993 as seen below:
Here are the facts to this criminal offense that took place on August 11, 1994:
1: On or about July 22, 1993, Judy Payne was informed that her new husband was told by Frank that Judy was still engaging in a relationship with her former spouse Frank. Judy Payne was also informed by Frank that he had contacted Social Security and informed them on how she was cheating them.
2: On or about July 23, 1993, Judy Payne went down to the Sacramento Courthouse and filed a declaration with the court (under the penalty of perjury), stating that she needed a protective order because she had been terrified of Frank since he left the marriage about 15 months earlier. Her declaration also stated that Frank had become obsessed with her and that Frank's daughter Michelle would hide in the bathroom whenever Frank came over to visit his daughter (if that was true, why would she let Frank come over.)
2a. Note: Judy claim of all this terror and stuff began only a number of days after spending time masturbating Frank and allowing Frank to masturbate her and she requested that Frank never tell her new husband.
3: On or about July 23, 1993 A family law judge (Nancy Sweet) who saw her declaration, without any evidence to back-up her statements, issued an ex-parte retraining order against Frank---all based on Judy's declaration laced with perjury.
4: Shortly thereafter Frank receives a copy of this restraining order and obeys it. During a court hearing that was set to discuss this protective order Frank has his chance to tell the Judge presiding over Family Law matters that Judy has lied through-out her declaration. The female Family Law Judge (Nancy Sweet) tells Frank in a crowded court-room that she doesn't believe a word Frank is saying to her.
5: Days later, Frank's brother Jack contacts Judy to inform her that Frank's child support check is in the mail. Judy indicates to Jack that even his call to her is a violation of the restraining order. However, sometime later, Judy makes it known to a family counselor that she is willing to work things out with Frank. Frank, hearing of this, leaves a "Dear Judy" note on her car at work stating his child support payment is in the mail and apologizes for any trouble he has caused Judy. Frank leaves the area.
5: Week or so later, Frank receives in the mail a notice notifying him that an arrest warrant has been issued against him because of his violation of the court order by making contact with Judy through a note.
6: Frank retains the services of a family law attorney who gets the court to withdraw the arrest warrant. Frank was never arrested and never booked for this incidence.
7: After months of hearing continuations, Frank's attorney gets Frank to plea nolo condendere to the violation of the court order because of the note being placed on Judy's car window which was the violation of the court order that prohibited any contact. Frank was placed on two years probation.
8: Later, Frank finds two conversations Judy had with him only 30 days before Judy obtained the protective order based on her perjury. Frank sends a copy of those two conversations to Judge Nancy Sweet to let her hear how Judy didn't sound terrified of Frank in these conversations. click here to listen to the two conversations
9: The family law court secretary sends back to Frank a statement saying that this judge is no longer in Family Law and also that she can-not accept ex-parte communications. Yet, only months earlier she was accepting Judy's ex-parte communication in the declaration Judy filed at the court and this judge issued an ex-parte stay-away order based on that declaration.
10: Frank receives a letter from the DA Bureau of Family Support stating a case of child support has been opened for his daughter Michelle. Frank had never failed to pay his support on time and so he sent back a response to the DA. See down at the bottom of page for the entire scoop on this. Note: Judy went to the DA's office to get them involved in Frank's child support payments. Judy was acting like Roseanne Barr in the movie "She Devil"... Judy never saw another dime in child support after she went to the DA Bureau of Family Support.
11: Frank provides his attorney with the two telephone conversations he had with Judy that shows how she perjured herself throughout her declaration. Frank's attorney then states that he wants to depose Judy and sends to her the notice that she is required to be deposed.
12: Judy, not being too stupid, understands the implications of this deposition and retains the services of her own attorney.
13: Frank's attorney, tells Frank about "parental alienation syndrome," and he feels his daughter Michelle has experienced this. He suggests to Frank that the damage has already been done to his daughter concerning what Judy was doing and that the next best thing would be to negotiate an agreement to where Frank's child support payments would cease immediately and he would give up his parental rights to Michelle. Plus, Frank's daughter Michelle would call Frank stupid many times before Frank left the marriage because mommy was school teacher and daddy just worked in a grocery store.... so Frank found this decision an easy one to make.
14: Frank knowing that he had enough evidence against her to take her back to court, after deposing Judy, decided that this would be the best way to go. Plus, it would get Frank out of the grips of the court system which was costing him a large sum of money.
This agreement was completed. Frank never had to pay another dime in child support (a support Frank had never failed to make). Frank hasn't seen or heard from his daughter Michelle since then. A daughter whom he would take to the doctor when she needed to see one; a daughter whom he would pick-up from school when she needed to be picked up; a daughter whom experienced one of the best fathers a daughter could have for the first 10 years of her life.
Conclusion: Judy should have spent time in jail for what she did to me. She didn't even have to answer to the perjury that she committed against the People of the State of California. The people of the State of California didn't care because the people of this state are a bunch of assholes.
Before I found the two telephone conversations my former wife had with me only 30 days before she deceptively petitioned the court for a protective order, I pled nolo contendere to a note I placed on Judy's car. I found out later through discovery that Judy had contacted the police after she discovered my note on her car in the parking lot of the school she taught at. The police were summoned out to her school where she taught math and Judy filed a false police report stating that she had seen me, while inside my car, driving around in circles for some time before I dropped off my note on her car and that I was hanging around that area for sometime later. Something similar to this and none of it was true. I guess Judy didn't have math to teach that day and spent her time looking at the schools parking lot. And because of this false police report she filed on that day, it is the only reason why I received an arrest warrant in the mail shortly thereafter after I dropped off my note.
She was bent on seeing me in jail and ending my relationship with my daughter. To her dissatisfaction, I was never arrested or spent any time in jail. She was successful in ending my relationship with my daughter but as we all know all good things must come to an end...
A message to you stupid People Of The State Of California:
Judy did make all of you look stupid, you know?
Frank sends a fax to a Assemblywoman Margaret Snyder who seems to be excited about a new law (AB356) that she has introduced and passed by the legislators concerning the protections for domestic violence victims. Sometime later, Assemblywoman Snyder sends Frank a letter through the U.S. mail and her response basically ignores all of Frank's concerns in his faxed letter to her.
Click on the image below to read this letter sent to her and her response back to Frank.

Above represents Assembly Bill 356
AB 456 re-defines the word "terror" and is a protection for some married women engaging in deceptive camouflage domestic violence warfare under certain conditions set forth under the following rules and provisions:
A) §456.1 Married woman willfully masturbates her former spouse with 4, 5 or 6 fingers before getting her protective order against her former spouse that is all based on fabricated terror;
B) §456.2 Married woman allows her former spouse to masturbate her with 4, 5, or 6 fingers before getting her protective order against her former spouse that is all based on fabricated terror;
C) §456.3 Married woman's former spouse tells married woman's new husband what his new wife is doing with her former spouse along with the fact married woman finds out that her former spouse contacted social security to inform them how this married woman was cheating them after the above rules "A" and "B" have been established to get her protective order against her former spouse that is all based on fabricated terror; This rule is subject to change depending on what former spouse whistle-blows about woman.
D) §456.4 Upon the completion of rules "A" "B" and "C", and all provisions of each rule have been verified by the court, this new "terror" definition becomes valid and a legitimate reason for some married women to petition the female judge of any court to issue a protective order against said former spouse provided that the married woman can prove that her former spouse "rubbed" her the wrong way only days after rules "A", "B" and "C" were accomplished and this former spouse actions causes this married woman a tremendous amount of fabricated terror in her life.
After a 56-0 vote in favor of AB 456, this bill, which sits on the top of a big ball of the state legislators buggers & snot, is now rolling over to the Governor's office to be signed into law where it will cuddle with AB356.
Wasn't there one vote out of the 56 that could have taken a step back to look at this bill more realistically?
I thought running naked 7 1/2 miles through the crowded steets of S.F. was bold. Judy's unlawful boldness in this story was way over the top!
Update-Update-Update:
I found out recently that one of my brothers, who has an account with webite www.truthfinder.com, shared with me inccurate information that truthfinder has about me on their site that pertains to the information above. Below is my email to them followed by their email response back to me:
| | |
| --- | --- |
| | PEOPLE OF THE STATE OF CALIFORNIA |
Now here is the good part where the People of the State of California are going after James Sebastian Williams on the eleventh day of February, of the year 1995. Go get him people... And this is a year and a half after the People of the State of California went after Frank and demanded Frank pay for his terrible crime committed against the people of this State. The same people (aka assholes) that told O.J. Simpson, during this same time period, that it was OK for him to butcher two innocent people one night in his act of rage.
Here are the facts to James Sebastian Williams criminal offense that took place on February 11, 1995:
1: Frank left his apartment, after the sun had gone done on that day, and went for his usual 8 mile run. Frank ran on the streets during the evenings and usually would take the same route every time he went out for a run.
2: Frank headed down Auburn Bld which is not a street located in the best part of Sacramento. As he went past Fulton Ave, he came to a point on the road where he could hear somebody screaming at somebody else. Frank came to a stop in his running and noticed a car in the parking lot of a music business called Skips. He could see two people inside this car. They couldn't see Frank because it was dark and he was wearing his all black running pants/shirt and was somewhat covered up by a telephone/tree in the area. He could tell one of them was a male because he could hear the male screaming.
3: Frank can see the male driver pushing the other occcupant in the front passenger seat out of the passenger side of the car. He is very forceful and is screaming at this person to get of the car. The male occupant then is able to get this person out of the car and then locked the front passenger door. The other occupant (Frank can now determine is a female) now opens the back seat door and climbs inside the car.
4: The male occupant then gets out of the car, proceeds to go to the back of the car, opens up the hatchback, reaches in and grabs the woman sitting in the middle of the back seat and yanks her out of the back and throws her to the ground. He then grabs some luggage that is in the back and throws that to the ground as well.
5: Then the male driver gets back into the drivers seat, starts up the car and proceeds to drive out of this parking lot.
6: The female occupant then decides she is going to jump on the top of the car as it is driving away and now there she is hanging from the top of this car heading down Auburn Blvd.
7: Frank then starts running after this car with this woman hanging off from the top.
8: Frank notices another vehicle (a Jeep with three women inside) leaving the parking lot next to Skips Music. The window to the back of the Jeep was open to where Frank could alert these women that there was a woman hanging from a car driving down Auburn Bld and that she needs assistance.
9: These three women were African Americans and they too saw this woman hanging from the top of this car.
10: The car with the woman hanging off the top, Frank; and the three women in the Jeep were all headed for the Fulton/Auburn Blvd intersection.
11: Frank was trailing the other vehicles while he ran. Frank noticed that when the Jeep with the three women inside came to the stop light at the intersection and knowing that this woman needed some assistance took a left turn to go south on Fulton Blvd and appeared like they didn't want to get involved. Three women who saw another woman hanging from the top of a car and basically closed their eyes to it all.
12: The car with the woman hanging off, stopped at the intersection while wanting to take a right turn and then the woman fell off the top of car and landed on the cement/street. The car continued on to go north on Fulton Blvd.
13: Frank is now at the intersection himself and comes to the woman's aide to ask if she was OK and that he witnessed the entire incidence;
14: Surprisingly and conveniently, a police car shows up at this intersection where Frank was able to flag them down and so that they could provide this woman the help she needed.
15: Frank tells the police everything that he witnessed happenning to this woman and the involved male driver of the car.
16: The police then questioned this woman and the woman told the police that everything Frank said happened to her was true.
17: Based on all of this information, the police had probable cause to find this man and arrest him. They were able to locate him back at the same parking lot where this assault had taken place. The male driver had gone back to this parking lot to retrieve the luggage that he had thrown out of the car.
18: The police arrested him and charged him for this unlawful behavior.
19: Frank left the area and let the police handle the situation.
20. Frank doesn't get involved with anything with this particular incidence and then later one evening Frank gets a call at home from the female victim. Frank asked her how she got his phone number??? She told Frank she found the number on the police report.
21: This woman starts telling Frank that everything he told police that night about what her boyfriend did to her really didn't happen that way.
22: Frank then told her on the phone that maybe this is what she should have told the police that night if what Frank told the police wasn't true. Frank then repeated to her everything that took place on that evening and Frank told her he didn't appreciate her calling him at home. And that was the end of their conversation.
23: Some time later Franks finds a business card (left by an attorney) left on his door asking Frank to give him a call. Frank eventually talks to this attorney, whom is representing this woman's boyfriend defendent, on the phone.
24: Frank tells the attorney the same story he told the police on February 11. Frank asks this attorney what is happening with this case. The attorney tells Frank all this stuff going on and Frank finds out the date of the next court hearing pertaining to Williams.
25: The next court hearing is scheduled for 1:30pm, May 24, 1995.
26: This date is also the same date that Frank is going to be deposed by Lucky's at his Attorney's office.
27: Frank attends his deposition and leaves shortly after 1pm to get to the courthouse by 1:30pm.
28: Frank arrives at this court hearing in time for it to convene when Frank hears in the courtroom that this case had been dismissed because of insufficient evidence.
29: Frank hearing this, interupts the proceeding to state out loud that he had witnessed the entire event and didn't appreciate this case being dimissed based on insufficient evidence.
30: The Court judge/bailiff asked Frank to be quiet and at that time the DA handling the case told Frank he would give Frank a call at home later to discuss the outcome of this case.
31: The DA did call Frank at home to tell him what was happening with this case.
Frank ran, who knows how far (1/3-1/4 mile) down a dark street one night, while chasing after a car with a woman hanging off the top of it, who could have easily fallen off and been struck by others cars traveling on this street or even been injured just falling off this car, and this is the kind of respect I got from this victim and the District Attorney representing the people of the State of California.
I leave a note on my ex-wife's car and get sentenced to two years probation based on the perjury of this ex-wife and then the girl-friend of this James Williams, who now doesn't want to see her boyfriend in trouble, calls me up at home and has the audacity to tell me that what I told the police on that night he got arrested really didn't happen that way. Well, for some reason on that night she told the police that everything I told them that I saw happened was absolutely true.
Yeah Vivian Traugot, I risked my own safety on this night so some time later you could show me you are just one of the many dishonest assholes I have met in my life.
It's kind of funny because on my web site you find out about boasters like Glen Cole who will fabricate his stories to a large group of people making himself into a hero, and later being caught fabricating many of the facts to the story. Then here is a story that I am sharing for the first time, about me chasing a car with a woman hanging off the top of the car that is absolutely 100% true.
My heroric run down a dark street didn't make any newspapers like Glen Cole's did. But at least my story was all true. Cole can't claim his story is true because it wasn't!
Judy never saw another dime in child support
In a chess game, Judy thought she had this game all rapped up. Even though she failed to have Frank put in jail, she had the DA in her hip pocket. She made it so Frank couldn't see his daughter unless he was willing to continue to spend his money in the court system; she convinced everybody that she was terrified of Frank but her only mistake was going to the DA Bureau of Family Support to get free family law matters done on behalf of the taxpapers of California.
Below is the letter I received from the District Attorney's Office, Bureau of Family Support and my responses back to them. I won't include everything I sent to the DA's office but just some interesting stuff....Oh, it should be noted that Judy never saw another dime in child support after she summoned the services of the DA's office to start handling Michelle's money. She didn't receive one more dime. Check-Mate for Frank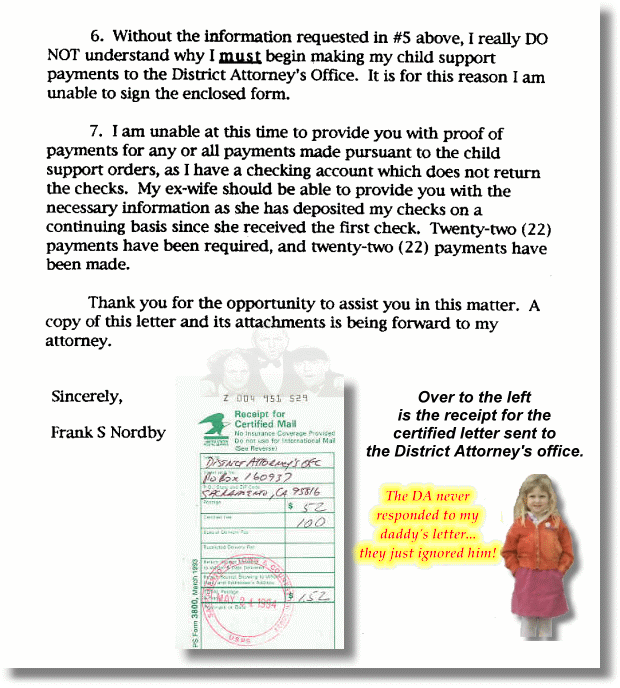 Frank didn't use their envelope below, he wanted to make sure they got it.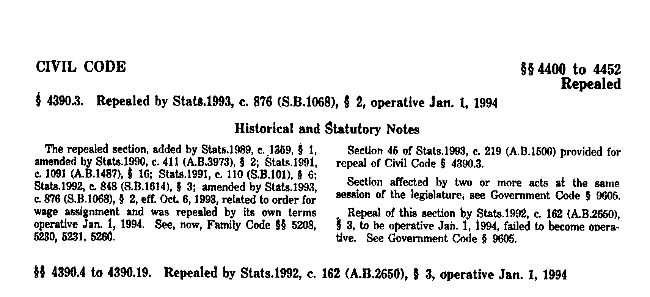 The DA's Bureau of Family Support office completely ignored Frank until they received this faxed page below
accompanied by 31 pages Frank was planning on filing at the court.
Below is just one of the 31 pages that were going to be filed on this morning.
| | |
| --- | --- |
| | Money buys my love |