I just love this page from Raley's history book and I think I might have it tatooed to my ass. It's titled "Taking Nevada" and this couldn't be any truer than this. Raley's was taking Nevada and they wanted to take as much cash as they could and as quick as they could from this chain of stores before it went bankrupt.

While I was not there in Nevada as Chuck Collings, Jim Teel (and supposedly Tom Raley) were involved in the big gamble/purchase that made Raley a millionaire several times over (according to Raley's history book), nothing of this big gamble made any sound financial sense at all except for these cons being able to get their hands on some quick cash from a chain of supermarkets losing money and headed for bankruptcy.

Raley's cheated Charles Nordby out of promised monetary bonuses after hiring him in 1973. Yet during this same time period, it appears by the documents found on this page, that they gave a piece of real estate to the Gastanaga brothers (owners of Eagle Thrifty) with a value possibly in the hundreds of thousands of dollars, for only a mere $10. Was $10 the actual amount the Gastanaga brothers paid for this property or was the actual amount paid concealed?

Probably no money at all was exchanged for this property. Although, $10 looked pretty good to Raley's at this time seeing that their suppliers, vendors and Raley's employees were stealing them blind in California.

Did Raley's offer (worthless) corporation stock to these brothers as collateral and then the Gastanaga brothers wanted something that had real value to it before letting Jim Teel and Charles Collings get their hands on the Eagle Thrifty stores? This piece of property detailed below might have been the only valuable asset within Eagle Thrifty and the Gastanaga brothers wanted it on the first day Raley's took ownership on July 1, 1973. What other explanation would there be for the suspicious shuffling around of this piece of property as seen below?

Hey, these documents might represent the big Tom Raley/Eagle Thrifty deal of Nevada. Raley's was planning on bankrupting this chain of stores and Raley's history book touted this deal as the big gamble that made Raley a millionaire serveral times over...sorry Collings, but Nordby made Raley a millionaire serveral times over.

Here is the script:

Teel and Collings quickly set up the Eagle Thrifty Corporation by the end of June, 1973, and then turned over a valuable piece of real estate property to Raley's of Nevada, and then deeded off this same piece of property to the Gastanaga brothers- doing all of this after they (Teel, Collings, Raley) became the Eagle Thrifty Corp. of Nevada-separate from Raley's .

Collings and Teel immediately pull $1 million out of Eagle Thrifty's payroll because they needed some quick cash to keep the Raley stores in California afloat or because they wanted to have a truck load of cash for themselves when Raley's went bankrupt. Had they not hired Charles Nordby around this same time period, Eagle Thrifty would have gone into bankruptcy, the Gastanaga brothers would have been able to keep the valuable property that went from the Raley's Eagle Thrifty Corp of Nevada, to Raley's of Nevada, and nicely put into their hands so creditors wouldn't be able to come after them and the property.

The creditors would have been left holding the bag and all of Eagle Thrifty employees would have been without a job...all because Charles Collings and Jim Teel were low-class crooks!

Oh, one additional note: While (two of) the Holy Trinity stars Charles Collings and Jim Teel, along with (supposedly) Tom Raley, are running around Nevada trying to find a pot of gold to keep the Raley's stores in California afloat, 80% of Raley's suppliers in California are stealing large sums of money from Raley's at this very same time. Enough to make anybody laugh!!!


Please read below to see the details of events taking place during June, 1973

Above represents the property recording by the Gastanaga brothers back on July 2, 1973. You can see the information about this piece of property being transferred from Eagle Thrifty of Nevada to Raley's of Nevada, and then Raley's of Nevada transferred this valuable piece of property to the Gastanaga brothers. This recording was filed by the Gastanaga brothers and probably done to protect their ownership to this property. They probably demanded that they retained this valuable piece of property as some kind of payment for Collings and Teel taking over this chain of stores. This may have been the Raley's Eagle Thrifty deal mentioned in Raley's history book. It was a bogus deal. Collings and Tell now had this chain of stores for their purpose of cutting back on payroll, taking money and then letting this supermarket chain go bankrupt.
June 8: Chuck Collings (President) and James Teel (Secretary/Treasurer) of California Raley's, amend Raley's articles of incorporation authorizing the issuing of $6 million in corporate shares. Tom Raley was not present. Click here to see the amendment.

June 14: Press release announcing Raley's purchase of Eagle Thrifty stores in Nevada. Only mentions Tom Raley and James Teel. Click here to see the June 14 article.

June 29: Chuck Collings, James Teel, and Tom Raley establish the Eagle Thrifty Corporation of Nevada. Raley is President, Teel is Vice President, and Conman Collings is Secretary Treasurer. Click here to see the documents.

June 30: Eagle Thrifty Corporation of Nevada transfers a valuable piece of property to the Raley's of Nevada Corp. for a mere $10. Both corporations are controlled by Tom Raley and Chuck Conman Collings. Please see below on this page.

July 1: On a Sunday, Raley's Corp. of Nevada, transfers the same piece of valuable property to the Gastanaga brothers for a mere $10. It appears that the Gastanaga brothers were responsible in having this document recorded in Washoe County, Nevada. I guess they didn't trust Collings or Raley! See below:
| | |
| --- | --- |
| | The Big Scam and Taking Nevada |
Look at what is going on below:
On the 30th day of June, 1973, Chuck Collings and Tom Raley (aka Eagle Thrifty Corp. of Nevada) are transferring this piece of real estate to Chuck Collings and Tom Raley (aka Raley's of Nevada) for a mere $10. Is Chuck Collings trying to hide this piece of property?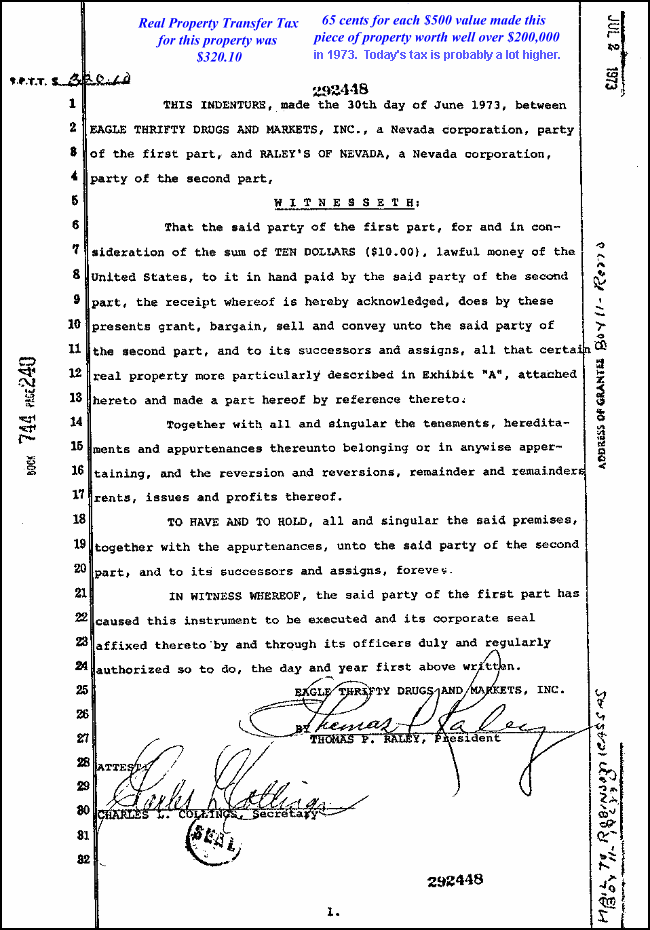 Below is a Sidney Robinson (notary public) acknowledging that Tom Raley and Charles Collings appeared before him on June 30, 1973. How did he know it was Tom Raley appearing before him?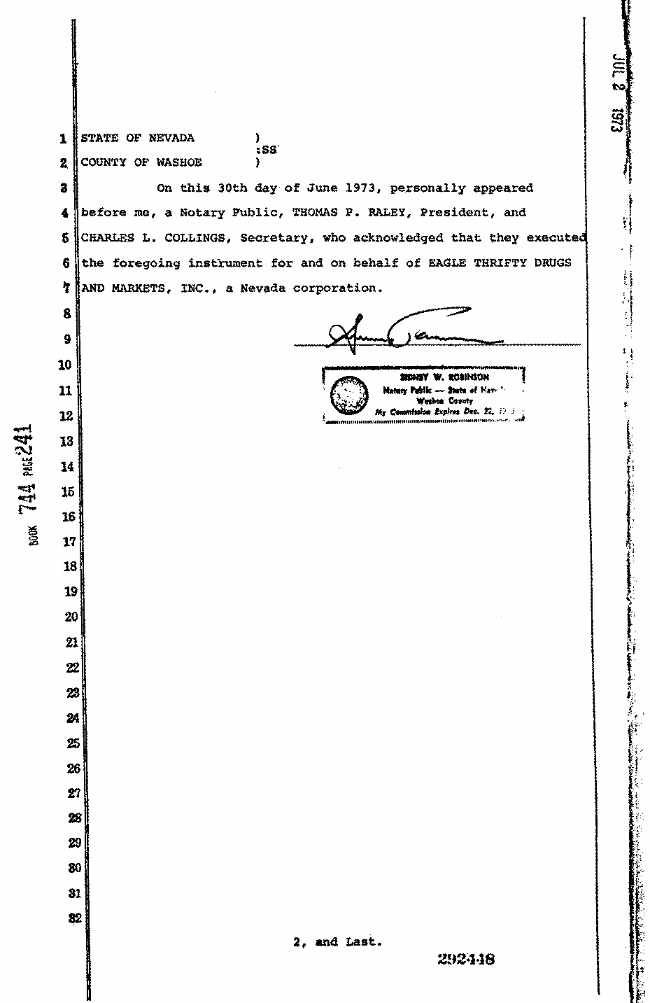 Old man Tom Raley was everywhere in Nevada back in 1973- yet Old Man Tom Raley didn't even know Charles Nordby-and he was hired around this same time to turn around & troubleshoot his mismanaged chain of stores!!!
Below is the property that is being represented above.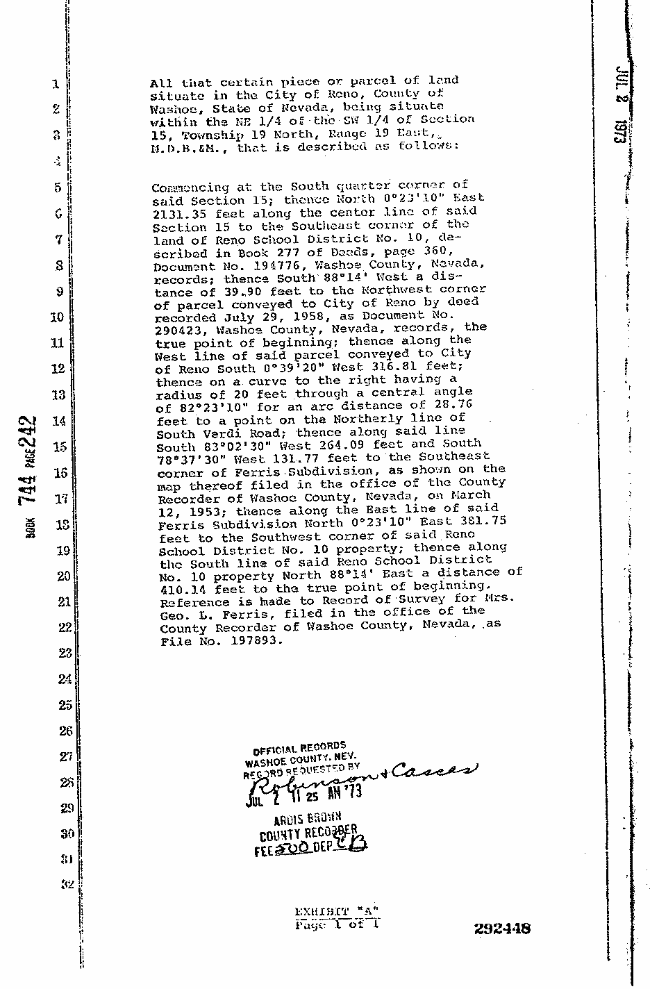 Below is the same piece of property. It is now being transferred from Raley's of Nevada to Eugene and Jose Gastanaga. Charles Collings told Charles Nordby that his word was his bond and that a contract wasn't necessary concerning monetary bonuses, yet, below is a contract made between Chuck Collings/Tom Raley and the Gastanaga brothers. I am sure the Gastanaga brothers didn't put a lot of faith in Chuck Collings'/Tom Raley's word. Had Charles Nordby been aware of what Chuck Collings was doing in Nevada, he would have never even gone to work for Raley's.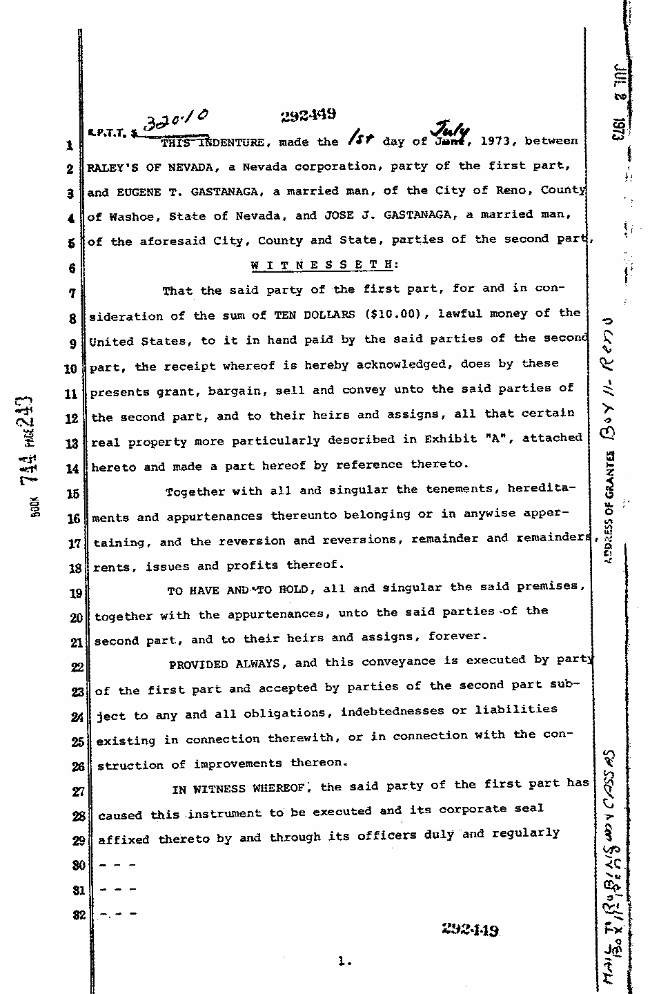 Above are the stamps 292449 and stamp "Book 774 Page 243" on the left side of the page. Below is the recording that reflect these numbers that the Eugene T and Jose R Gastanaga made concerning the piece of property Raley's of Nevada deeded over to these brothers. It appears that the Gastanaga's were protecting themselves to make sure that this piece of property was recorded.

Below is a copy of the right side of this page as this is a large page:

In my opinion, the Gastanaga's wanted to make sure that they received something in value from Collings and Teel in exchange for the rest of the stores that Collings and Teel would want to take cash out of before they went bankrupt. This piece of property was probably one of the few valuable assets of the Eagle Thrifty stores and the Gastanaga brothers made sure it was recorded.
OK- once again, below is Tom Raley's signature pertaining to the same piece of property that Eagle Thrifty had given to Raley's of Nevada for 10 bucks. He is giving away a piece of property with a possible value of well over $200,000 to these two brothers for a mere $10. Charles Nordby made these two assholes (aka Charles Collings and T.P. Raley) very wealthy individuals and then these two same assholes are involved in fishy shenanigans with the State of Nevada.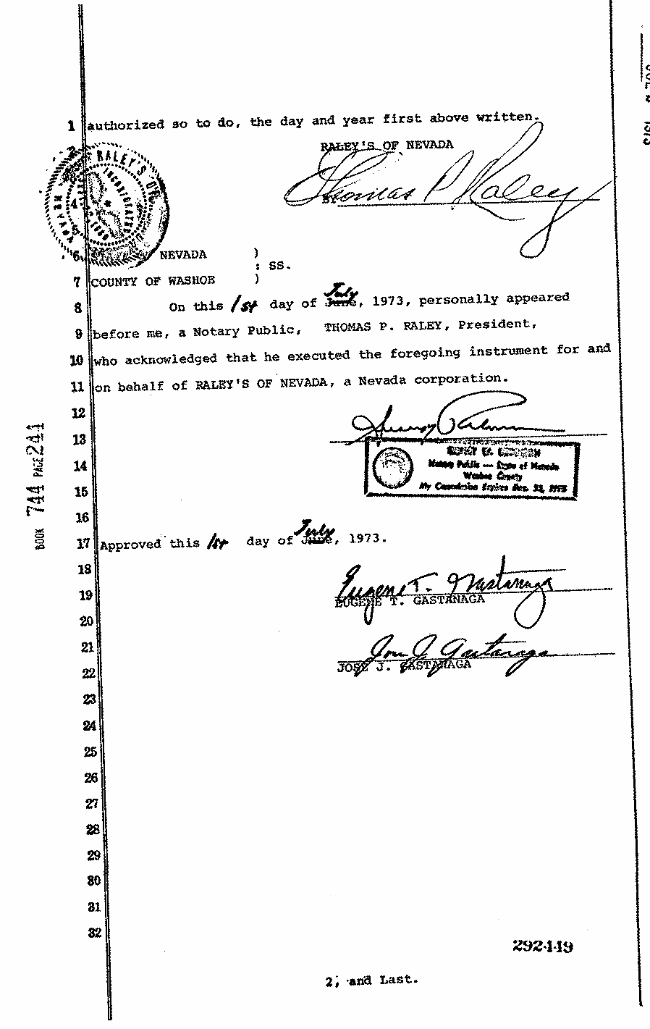 Below is the same piece of real estate as above. Also, did the parties to this action really contact this notary public (Sidney Robinson) on Saturday, June 30, and then again, the next day, on Sunday, July 1, 1973?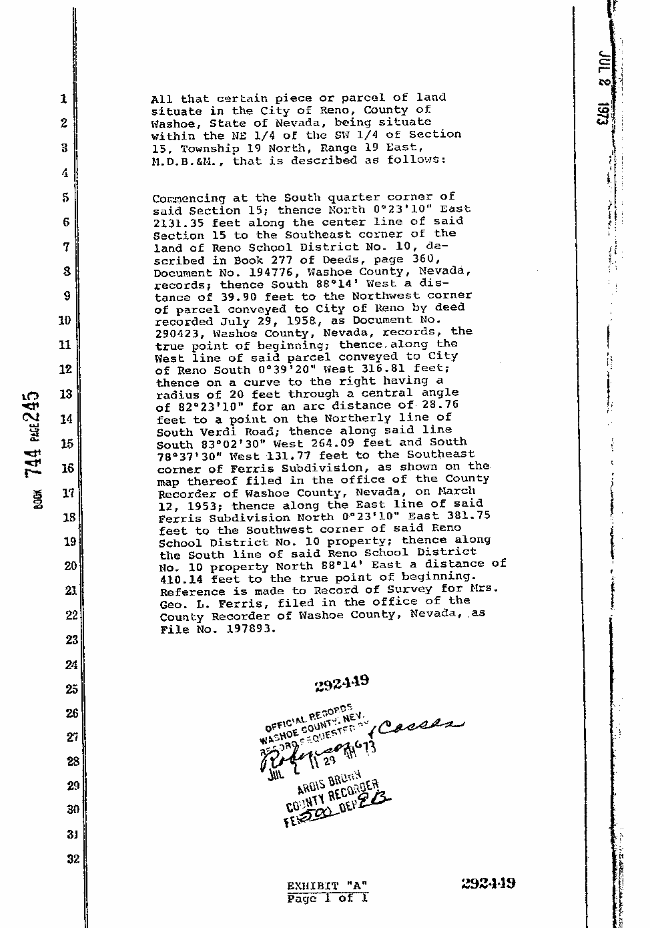 Here is a question concerning all that you see above: Is this all there is on the record to this big deal involving Raley's and Eagle Thrifty? I couldn't find anything other than this piece of property above being transferred like it had people living on it who also had leprosy. Had these legal documents above not been recorded, would there be anything around today to show some kind of a record pertaining to this purchase?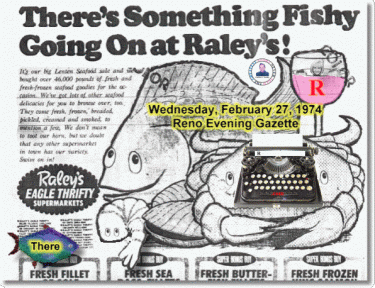 This was nothing more than a total fraudulent Collings Sham!